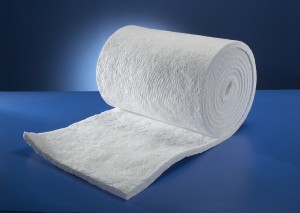 Ceramic Fiber Blankets
Unifrax ceramic fiber blankets and mat products consist of a group of thermally efficient high temperature insulating materials that combine the advantages of both low heat storage and complete resistance to thermal shock. Offering a broad range of thermal capabilities and physical characteristics, this product family provides proven and effective solutions to a variety of heat processing applications.
Fiberfrax® Ceramic Fiber Blankets – Fiberfrax® ceramic fiber products are manufactured from alumina-silica materials and offer such characteristics as high temperature stability, low thermal conductivity, low heat storage, excellent thermal shock resistance, light weight, and superior corrosion resistance. Fiberfrax ceramic fiber products exhibit thermal stability at temperatures up to 1430°C (2600°F).
Fibermax® Needled Blankets – Fibermax® Needled Blankets are high temperature, lightweight and flexible products manufactured from polycrystalline mullite fiber that can be exposed to temperatures up to 1600°C (2912°F). These blankets contain no organic binders or other additives which cause outgassing fumes or associated problems. In addition to exhibiting excellent resistance to most corrosive agents, Fibermax Needled Blankets also resist oxidation and reduction.
Insulfrax® S Blankets – Insulfrax® S Blanket was developed from a calcium, magnesium, silicate chemistry to provide thermal insulation at continuous operating temperatures up to 2012°F (1100°C). It meets European regulatory requirement (Directive 97/69/EC). Insulfrax® S fiber chemistry has been combined with Unifrax's proprietary fiber spinning technology to create a specialty high-temperature blanket with superior thermal and mechanical properties.
Isofrax® 1260C Blankets – Isofrax® 1260C Blanket is the product of a long-term research and development effort by Unifrax to produce an insulating blanket which has the high temperature performance characteristics required in many applications at temperatures up to 1260°C (2300°F) and also meets European regulatory requirements (Directive 97/69/EC).
Saffil® Blanket & Mat – Saffil® Blankets are high temperature, lightweight, needled blankets manufactured from high purity, polycrystalline fiber with a polypropylene carrier to optimize strength and flexibility.  Saffil Mat is widely used to form stack bonded modules, as expansion gap filling, high-temperature seals and as a lining in the construction of industrial furnaces and kilns. Additionally, specialist applications in filtration, automotive, soundproofing and catalyst support have been commercialized.