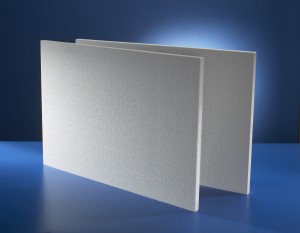 Ceramic Fiber Boards
Unifrax rigid ceramic fiber boards are manufactured to provide excellent performance in any application which requires high modulus of rupture (MOR) and a rigid form. The product is designed to resist erosion, vibration, mechanical stress, and can be easily customized on jobs to fit any installation.
Fiberfrax® Duraboard® Products – Fiberfrax® Duraboard® products are a family of rigid, high-temperature ceramic fiber boards manufactured in a wet forming process using Fiberfrax alumino-silicate fibers and binders. All Duraboard products offer low thermal conductivity, high temperature stability, uniform density, and excellent resistance to thermal shock and chemical attack. Fiberfrax Duraboard products exhibit thermal stability at temperatures up to 3000°F.
Fibermax® Duraboard® 1700 and 1800 – Duraboard® 1700 and Duraboard® 1800 are an extension to the Fibermax® product line. These board products exhibit excellent thermal stability (low shrinkage) at very high operating temperatures. Another benefit of these board products is their extremely high modulus of rupture (MOR) in both the green and fired state. Because of this strength, both Duraboard 1700 and Duraboard 1800 are very well suited for applications where sag resistance is critical. Duraboard 17R and 18R have a rolled finish, while Duraboard 17H and 18H are compressed during manufacturing for optimum density and sanded smooth. Standard thicknesses available for these products are 13mm (1/2″), 25mm (1″), 38mm (1-1/2″), and 50mm (2″). Also, if requested, these boards can be provided heat-treated to remove all organic content. Specialty shapes with similar product properties may be provided upon request.
Unifrax's Fiberfrax® ceramic fiber product line, revolutionary Insulfrax® and Isofrax® low bio-persistent, alkaline earth silicate fiber products, Saffil® PCW (polycrystalline wool) fibers, specialty glass fibers and other high performance specialty products are available in a variety of product forms.