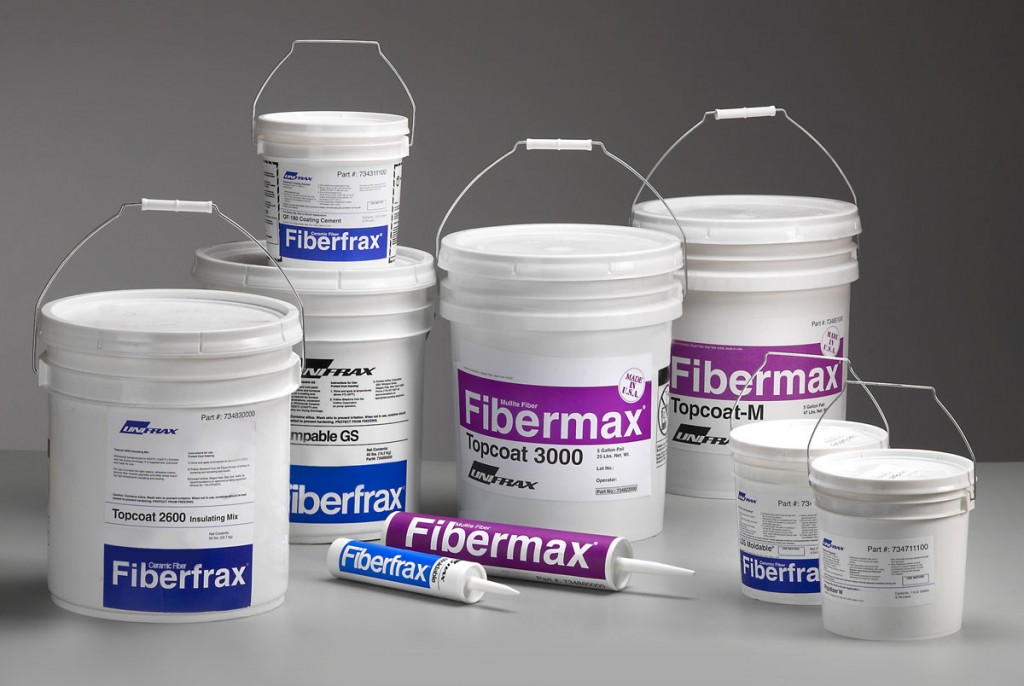 Ceramic Fiber Coatings and Mixes
The specialties family of Unifrax ceramic fiber coatings and mixes provides a range of product forms which offer a choice of materials to address a wide range of application problems, such as resistance to hot gas erosion, flame impingement, the ability to be formed into special shapes and configurations, installation into blind hot spots and hard-to-insulate areas. These products also possess the advantages inherent with other Fiberfrax® ceramic fiber insulating materials: high temperature resistance, excellent insulating properties, thermal shock resistance, chemical stability, and ease of installation.
Coatings and Mixes – Fiberfrax® LDS and LDS AL-Moldable® consist of Fiberfrax® ceramic fibers dispersed in a sticky water-based refractory binder. These materials have a putty-like consistency which permits application by caulking, troweling, or hand forming. Both products adhere well to most surfaces. Drying is accomplished at a non critical, elevated temperature, and the resulting dried material is strong, hard, and erosion resistant.
Fiberfrax® Pumpable-LDS and Pumpable-GS were designed for applications into difficult to reach areas requiring insulation. Both Pumpable-LDS and Pumpable-GS have temperature grade ratings of 1260°C (2300°F). A conventional air-operated extrusion pump permits application of these products directly from their container into furnace and boiler hot spots, refractory cracks, furnace door jambs, and other areas requiring high-temperature insulation and sealing.
Foamfrax® Insulation – Foamfrax® Insulation, an advanced high temperature technology for furnace lining applications provides fast installation, exceptional fuel and energy savings, and overall cost savings. As an effective alternative to traditional modules/blankets, Foamfrax Insulation offers installation speed and lining performance for furnace linings, lining over refractory and furnace lining maintenance and repairs, patches, and refits. Foamfrax Insulation's patented foam/fiber mixture forms an interlocking network of fibers that creates a monolithic structure with excellent thermal insulating properties, low heat storage and excellent resistance to thermal shock and chemical attack.