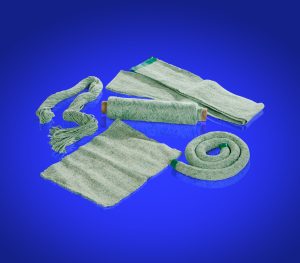 Ceramic Fiber Textiles Rope, Braids, Wicking, Tapes, and Woven Textiles
We offer a range of woven ceramic fiber textiles including yarn, cloth, tape, and ropes made from our high temperature insulating fiber materials.
The woven textile product family is a unique group of high temperature ceramic fiber fabrics useable in a wide variety of industrial applications with insulating ability to 1371°C (2500°F).
Our textile products are made using refractory insulating fibers and organic or non-organic binders to create a yarn. This yarn can then be woven into products such as cloth, cable rope, rope lagging, twisted rope, webbing and ladder tape.
The range comprises two fiber grades:
Alkaline Earth Silicate Fiber (AES) bulk made from our unique low bio-persistence fiber Superwool®
Refractory Ceramic Fiber (RCF) also known as Alumino Silicate Wool (ASW) bulk fiber made from Kaowool® fibers
AES (Superwool®)
Our Superwool® textiles are particularly resistant to chemical attack and can be used with molten aluminium. Superwool® is the only low bio-persistence fiber available with a classification temperature of 1300°C (2372°F).
Superwool® fibers are exonerated and are not classified as carcinogenic by IARC or under any national regulations on a global basis. They have no requirements for warning labels under GHS (Globally Harmonised System for the classification and labelling of chemicals). In Europe, Superwool® fibers meet the requirements specified under NOTA Q of European Directive 67/548. All Superwool® fiber products are therefore exempt from the classification and labelling regulation in Europe.
RCF Refractory Ceramic Fiber Textiles
The Kao-Tex™ and Kaowool® family of products features excellent tensile strength with maximum temperature ratings from 538°C (1000°F) to 1371°C (2500°F) dependent on additional materials used in the manufacturing and finished product form.
All our textile products offer excellent resistance to thermal shock and abrasion and are asbestos free. They are used in manufacturing, chemical processing, power generation and construction, in applications such as:
Welding curtains in steel fabrication
Fire blankets for commercial and domestic kitchens
Smoke and fire curtains in buildings
Kiln car, expansion joint and door seals in furnaces
Gaskets in furnaces and domestic appliances
Flexible expansion compensators in power generation equipment
Removable, flexible thermal insulation quilts for pipe work and valves in the petrochemical industry. 
We work with our customers to engineer thermal systems to individual specifications. We design thermal systems for folding, wrapping, and conforming to a limitless variety of shapes and sizes. For more information or to discuss your application, contact us today.